You may have seen the news that the Seattle Aces & Aros got a Ceremonial Proclamation, signed by the Governor of Washington, declaring October 20th-26th, 2019, to be Asexual Awareness Week in the State of Washington.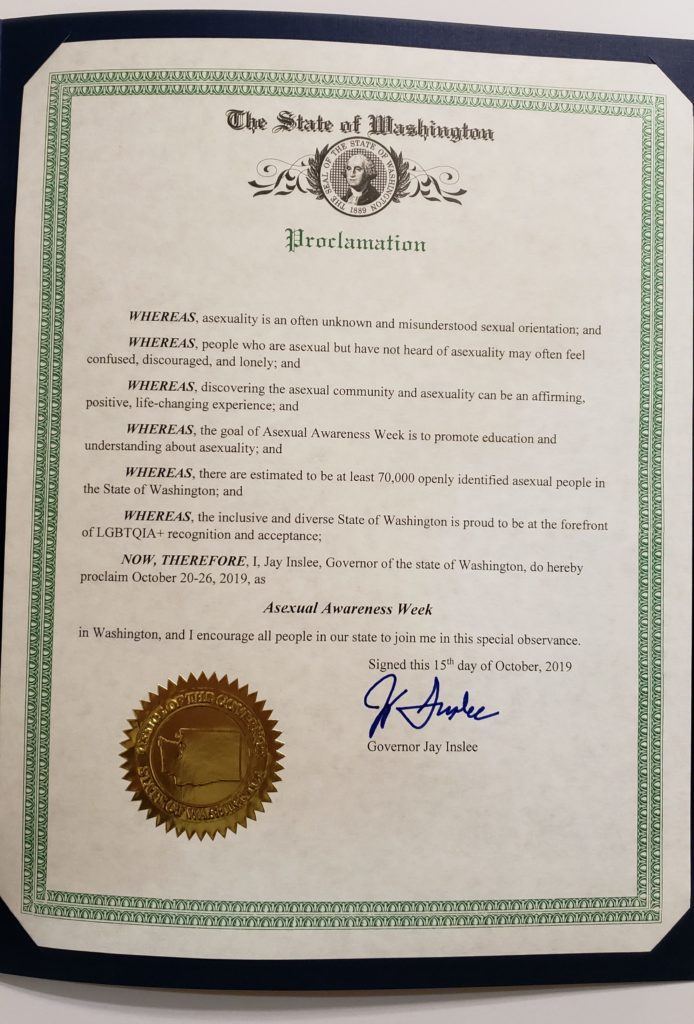 This was a very exciting moment for us, and as far as I'm aware, the first time that Ace Week has been recognized in this way anywhere!
Needless to say, it's a big deal! A big deal for the Seattle group and a big deal for the ace community as a whole.
But how did we pull it off? How did we get a busy governor, a former presidential candidate, to take time out away from running a state to sign a piece of paper officially declaring it to be Asexual Awareness Week?
Simple: We asked.
The reason it had never been done before wasn't that it was too hard, it's that it was probably just never tried to any great extent.
So does this mean that the governor is fully on board the Ace Pride train? Does this mean we're going to get a black tie reception in Olympia in honor of Ace Week?
Not exactly… (Not yet, anyway…)
So what does this mean?
Policy-wise, and from the perspective of the business and laws of the State of Washington: Absolutely nothing. Nothing at all. This is just a fancy piece of paper with a shiny seal on it. The website to request a Ceremonial Proclamation even has a disclaimer that can be paraphrased as "RT =/= Endorsement".
But symbolically, this is HUGE. It is officially Asexual Awareness Week in Washington. Signed, sealed, delivered. This is real, this is happening, and here's a fancy piece of paper with a shiny seal to prove it. This matters and we matter. People see it and they are proud, and excited, and validated, and they want to tell everyone they can about it. Things like that are the essence of what Ace Week is all about.
What is a Ceremonial Proclamation, anyway?
From the page for requesting one from the State of Washington:
Ceremonial proclamations recognize a day, week or month for a specific issue or occasion. The intention of a proclamation is to honor, celebrate, or create awareness of an event or significant issue.
In other words, it's basically a way to get the word out about something, using a superficial government document that declares it to be important. It's not an official policy stance from the governor and it does not necessarily represent the views or beliefs of the government. It won't even be announced or posted on a government website. Hence the word "ceremonial".
A ceremonial proclamation typically follows this form:
WHEREAS this is a Thing;

WHEREAS this Thing is important;

WHEREAS there are people in Place who are interested in Thing;

WHEREAS this Place is totally awesome;

THEREFORE I, Important Person in Place declare it to be

NATIONAL THING DAY!
When you're requesting a ceremonial proclamation, you actually write all of that yourself! So you get to decide what's important and how you want to present it, then you send it in. Now, the office might edit it slightly (they did with ours), but it will fundamentally be what you wrote for them.
For the most part, ceremonial proclamations will celebrate the mundane and uncontroversial. Recognizing National Teacher Day or Cowboy Poetry Week isn't going to move the needle in an election.
At the same time, there is some level of validation here. It's not completely a rubber stamp, sign anything that comes along procedure. There is some level of vetting that goes into it. Completely frivolous requests will probably get tossed, and governor or mayor isn't going to want to be embarrassed by signing something that goes against what they believe in. So while this means that the governor probably won't be marching in the Pride Parade with us next year, it does mean that he (and his staff) is enough of an ally to be willing to have his name associated with it.
Which brings me to another point… These sorts of proclamations are promotional all around. The group requesting one wants to use it to promote their pet issue, and the person signing it wants to promote themselves. You see their name next to the thing you like, supporting the thing you like, so you're naturally inclined to like them, too. They're counting on that positive association. Look at the mayor, she's on our side! So that is something you should consider when requesting one. If your governor or mayor or county executive or whatever is a trash fire of a person, you might be better off not requesting one. (Not that they'd sign it anyway…)
What does it take to get one?
You fill out a form on a website, then you wait.
That's about it. There's no lobbying, there's no coordination, there's no meetings, there's no constituent letter-writing campaigns. You find your local government's information on requesting a ceremonial proclamation, and follow the steps. They may be called something different in your area, so you may have to dig a little bit to find it. State, county, and city may all have a program like this, and there's no reason not to submit a request to each of them.
There are a few things you'll need to do to have a better chance of success, though:
Understand the requirements for submission. They may very slightly from jurisdiction to jurisdiction, so make sure you pay attention to each one you submit.
Submit your request from the relevant jurisdiction. If you live in Florida, the Governor of Idaho won't care about your request. Same goes for cities and counties. If you're in a group that straddle borders, try to have someone from each location submit the relevant ones.
Coordinate your requests. If you live in a state with multiple ace groups, reach out to them to decide what you're going to submit and who will be handling the requests, as well as how you're going to handle the announcement if you get it.
It's all about promotion. So talk up how important Ace Week is. Go all in on how proud you are to live in a place that's leading the way on LGBTQIA+ rights. Promotion promotion promotion.
Start early. Washington had a lead time of a full month before the delivery date. That means you need to be submitting the request in mid-September, and to hit that deadline, you'll need to be working on the wording for some time prior to that. This isn't something you can roll up half-asleep Saturday morning before Ace Week and pull out of a hat.
Don't give up. This was our second year of submitting requests. Our first year, we had a false start with one of our attempts. They said it was going to the Mayor's desk for a signature, but we never got confirmation that it was done, so we never publicized it beyond the group. We have a 1 in 4 success rate so far.
There are two parts to your submission: The "WHEREAS"es and the supplementary information.
The "WHEREAS"es are the draft text of the proclamation. That's what will actually go on the piece of fancy paper that you get. I have the text that we used, and you're free to borrow it. It worked once, so it's a good starting point! I'll post it at the bottom of this page.
The supplementary information is a bit more personal. You'll need to talk about why Ace Week is important to your community. Make it relevant and timely. You'll also want to talk about who you are. They're more likely to listen to a request from an established activist or an organized group who's marched in the pride parade several years running than Ace Q. Public, random person. But don't let that stop you if you are just Ace Q. Public. You'll never win if you don't play, so give it a shot regardless.
Also, it's important to point out that I'm very much new at this process myself. Plus, I'm only familiar with the process in the US, I don't know what it's like elsewhere. I think the more of us who try this, the more tips and tricks for success we'll figure out. So if you give it a whirl, let me know how it goes! (And if any of you have the political inside track, please spill the beans on how to have a successful submission!)
Example Proclamation Text
Here's the WHEREAS text that we used. Note that it is templatized with the location AND the population figure, so be sure to change that before you submit, or you'll get a very goofy looking proclamation back. I used the 1% figure because it's the most commonly cited value, and then I added the "at least" clause for wiggle room.
WHEREAS asexuality is an often unknown and misunderstood sexual orientation; and
WHEREAS people who are asexual but have not heard of asexuality may often feel confused, discouraged, and lonely; and
WHEREAS discovering asexuality can be an affirming, positive, life-changing experience; and
WHEREAS the goal of Asexual Awareness Week is to promote education and understanding about asexuality; and
WHEREAS there are estimated to be at least [1% OF POPULATION OF PLACE] asexual people in [PLACE]; and
WHEREAS the inclusive and diverse [PLACE] is proud to be at the forefront of LGBTQIA+ recognition and acceptance;